Asymptomatic infection with HPAI A(H5N1) in carnivore pets, Italy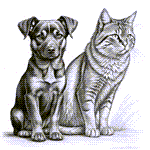 Eurosurveillance | Volume 28 | Issue 35
31 August, 2023
A new study, recently published in Eurosurveillance, reports a case of influenza A(H5N1) infection in a domestic cat and five dogs. These animals were living on a rural backyard poultry farm in Italy, where an outbreak of highly pathogenic avian influenza (HPAI) H5N1 had been notified. The virus that was identified in hens on the same farm, potentially responsible for transmitting the virus to the pet carnivores, belonged to the BB genotype. This genotype emerged in Europe in May 2022 due to reassortment events involving gull-adapted H13 subtype viruses. The PA, NP, and NS genes were acquired from these subtype viruses. Genotype BB was initially identified in Italy in January 2023 and has since spread widely among black-headed gulls in northern Italy. This spread led to mass mortality events around Lake Garda in the same geographical area where the affected farm is located.
Interestingly, the virus characterized in this study, which was detected in hens, differed from all other HPAI A(H5N1) clade 2.3.4.4b viruses circulating in poultry and birds. It exhibited a mutation in the PB2 protein, specifically T271A. This mutation is a marker of the virus's adaptation to mammalian species and has previously been associated with increased polymerase activity in mammalian cells. Notably, it is also present in the 2009 pandemic A(H1N1) virus.
Despite the infection, the pets described in this report showed no symptoms, raising concerns about the possibility of subclinical infections with zoonotic viruses in animals that are in close contact with humans.