3 January, 2023
According to The Guardian Battery cages for layer hens will become illegal in New Zealand in 2023.
The plan to ban battery cages has been 10 years in the making - in 2012, the previous National party government committed to phasing them out by 1 January 2023.
New Zealand has 3.9 million hens for egg production.
Read More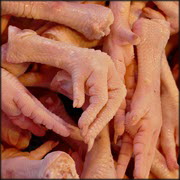 1 January, 2023
The crippling economic crisis in Egypt has resulted in a massive rise in food prices and meat of all kinds, exceeding the worst-case forecasts. Coinciding with the 50 percent rise in poultry prices over the past few months, there have been widespread calls to buy chicken feet on the pretext that they contain a high percentage of protein.
Read More