UK: Avian influenza H5N8 strain detected in seals and fox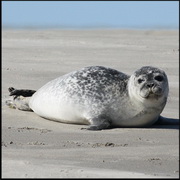 18 March, 2021
Carcasses of four common seals, one grey seal and one red fox submitted to APHA laboratory during December 2020 for diagnostic PME as part of routine wildlife disease surveillance activities. Two of the Common Seal carcasses were autolysed so were safely disposed of without PME. Following histopathological examination of tissues from the fox and seals identified lesions indicative of acute systemic viral infection further laboratory testing was performed at APHA. This testing resulted in the detection of H5N8 influenza virus infection. Gene Sequencing identified this H5N8 influenza virus to be [99.9%] identical to avian-origin H5N8 viruses detected from the Mute swans that had died and been tested from this wildlife rescue centre. In November 2020, five wild Mute swans (Cygnus olor) that had been rescued and taken to a wildlife rescue centre died, were tested and found to be infected with H5N8 HPAI. Retrospective investigation of the deaths of five seals - four Common seals (Phoca vitulina) and one grey seal (Halichoerus grypus) - and one red fox (Vulpes vulpes) approximately one week later at the same wildlife rescue centre resulted in the finding of H5N8 influenza virus infection. These were all wild animals temporarily located at the wildlife rescue and rehabilitation centre. Comorbidities were not investigated, and it is possible that other factors may have influenced disease severity.
Infection of mammalian species is a rare event, with no prior authenticated cases of H5N8 infection in foxes. All laboratory investigations and testing were performed at APHA. Test results confirm both the H5N8 influenza virus being of avian origin, and the source hypothesis as the Mute swans at the rescue centre that were also H5N8 positive. There was no evidence of spread of infection from the wildlife rescue centre.
H5N8 has been detected in lung samples of 2 gray seals (Halichoerus grypus) stranded on the Baltic coast of Poland in 2016 and 2017. This virus, clade 2.3.4.4 B, was closely related to avian H5N8 viruses circulating in Europe at the time (Shin et al., 2019. Emerg Infect Dis. Volume 25, Number 12).