Grizzly bears test positive for avian influenza in Montana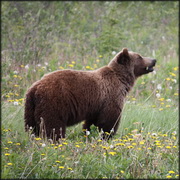 19 January, 2023
Three grizzly bears were euthanized in Montana after they became ill and tested positive for the highly pathogenic avian influenza (HPAI) H5N1 virus, according to the state's Department of Fish, Wildlife & Parks.
The bears were observed to be in poor condition and exhibited disorientation and partial blindness, among other neurological issues. They were euthanized due to their sickness and poor condition.
In its mammal updates, the USDA has reported four detections from three states involving three bear species, all in 2022.