Sweden: Coop recalls egg free-range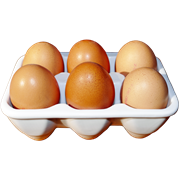 Image: Wolfgang Eckert/Pixbay
4 January, 2023
Coop (Sweden) one of Sweden's largest groceries is recalling Coop Egg Free-range 12-pack, Coop Egg Free-range 24-pack and Xtra Egg Free-range 15-pack with three different best-before dates. The reason for the recall is that the goods may contain salmonella. During a routine check, the supplier of the eggs discovered salmonella in one of the stables where the eggs were laid.
Coop has more than 800 stores from Kiruna in the north to Smygehamn in the south. Coop ranks as one of Sweden's most sustainable brands and has the largest share of organic sales in the industry. In total, Coop in Sweden has a turnover of SEK 44 billion and has over 22,000 employees.
The Swedish Department of Agriculture has ordered the slaughter of 165,000 egg-laying hens after salmonella was discovered at a farm in Småland in the end of December. The farm is one of Sweden's biggest egg producers and has been sealed off. Axfood as well as Coop have recalled eggs since the disease was discovered.