Egg: Healthy or Risky?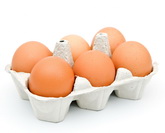 Nutrients 2023 | 15, 2657
30 June, 2023
A review article of evidence from high quality studies on hen's eggs.
Based on a thorough examination of high-quality studies, the key findings of this article are as follows:
1. Eggs are highly nutritious, accessible, and affordable. They provide key micronutrients such as vitamin D, iodine, folate, and choline, which are often lacking in habitual diets.
2. Evidence suggests that eggs have a positive or neutral impact on health markers and do not pose a risk when consumed regularly as part of a balanced diet.
3. For specific groups with high nutrient requirements, such as the elderly, infants, children, pregnant women, and athletes, eggs serve as a high-quality source of protein and essential micronutrients.
4. Current egg consumption in the UK is low, indicating the potential for more individuals and families to incorporate eggs into their diets more frequently.
Overall, this article supports the notion that eggs are a nutritious food choice and can be included as part of a healthy, balanced diet for most individuals.