Rabdobank: World egg prices and supply
23 June, 2023
Nan-Dirk Mulder, a Senior Analyst at Rabobank, examined the scope and factors behind the fluctuating prices of eggs in a recent assessment of the global egg market supply, prices, and trends.
Global egg prices have reached historic highs, significantly impacting the global egg supply. It is uncertain how long this situation will last and whether there are ways to stabilize the supply. However, it is anticipated that prices will remain relatively high throughout 2023, particularly in markets heavily affected by avian influenza, high costs, and regulatory changes. While some markets may experience a slight decline in prices, they are not expected to return to pre-2021 levels due to persistent high input costs. To stabilize the markets, better value chain cooperation, including greater commitment from buyers to mitigate farmers' production risks, is considered a crucial tool. Additionally, improving control over avian flu in heavily affected countries is another key strategy. Rabobank's global egg price monitor has reached a new record in Q1 2023, with the index exceeding 250. This indicates that prices are 2.5 times higher than the reference year of 2007 and have increased by over 100% compared to the same period last year. Significant price increases have been observed in various markets, including the US, EU, Japan, Thailand, the Philippines, Israel, New Zealand, Nigeria, Kenya, Brazil, Mexico, and Argentina. These price surges have had a substantial impact on all stakeholders in the egg supply chain, from breeders and producers to customers in retail, foodservice, and food processing sectors.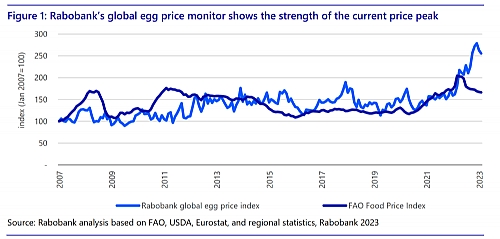 In the past, egg prices have generally followed the FAO Food Price Index, with some periods of divergence. However, recent trends have shown a divergence between egg prices and the food price index, with egg prices continuing to rise while food prices have started to decline. The impact of potential avian influenza outbreaks in Brazil, especially in the São Paulo region, where egg production is highly concentrated, could heavily influence egg prices, considering reported cases in nearby Argentina, Uruguay, and Bolivia.
High global egg prices are influenced by several factors impacting both supply and demand. These factors vary in relevance across regions experiencing price surges, but a combination of the following elements contributes to the current price situation:
1. Increased feed costs: Feed constitutes a significant portion of a layer farmer's expenses, and any fluctuations or uncertainties in feed costs directly affect egg prices. Global feed prices doubled between mid-2020 and mid-2022, making it challenging for producers to pass on these increased costs to customers.
2. Avian influenza outbreaks: The past two years have seen a significant prevalence of avian influenza (AI) outbreaks. Countries like the US, Japan, and Europe have witnessed a substantial reduction in laying hen populations due to AI, with millions of layers being depopulated.
3. Covid-19 market disruptions: Market disruptions resulting from Covid-19 restrictions led many operations to scale down, impacting the demand for eggs.
4. Regulatory changes: Regulations, such as the introduction of male chick culling in Germany and a cage ban in New Zealand, have had notable effects on the egg market by reducing the number of laying hens in these regions.
5. Changing consumer behavior: Economic downturns and high inflation have constrained consumer spending power, leading to a shift in consumer behavior. Consumers seeking cheaper protein sources have turned to eggs, driving up the demand.
6. Supply tightness and uncertainty: Producers are facing uncertainty, leading to a decrease in restocking hens. Buyers are reluctant to offer volume and price contracts to offset risks, resulting in low supply levels in many markets.
Looking ahead, historical trends suggest that price peaks are typically followed by drops in prices one to two years later. Producers respond to higher margins by increasing hen numbers, creating oversupply. While price drops are expected in countries like the US, Europe, and Japan, they may not reach the lows seen after previous crises due to different factors at play.
Overall, egg prices are expected to remain relatively high throughout 2023, with variations between countries. Countries experiencing persistent AI pressure, regulatory changes, financing challenges, or restrictions on imports are likely to maintain high prices. Other countries may see a return to historical price levels but not to the low levels seen before 2021, given ongoing high input costs.
The affordability of eggs for low-income consumers, especially in emerging markets, is a significant concern due to the current high prices. Eggs are a crucial staple food and protein source, particularly rich in vitamins B6, B12, and D. Increased egg prices and limited availability could pose significant social and health risks for these vulnerable consumer groups.