H5N1 infection in a black bear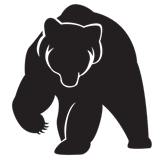 31 August, 2022
Healthy Wildlife - the blog of the Canadian Wildlife Health Cooperative - published the following report:
An adult female black bear exhibiting unusual behaviour was reported by visitors in June at Forillon National Park in the Gaspésie region, Quebec. This bear was exhibiting strange behaviour early in the day on June 14. It wandered between vehicles, went down to the water in a fishing harbour, began to swim around in circles, came out and hit a wall. Later that day, Parks Canada staff found the animal lying on its side in a ditch breathing shallowly and unresponsive to sound stimuli. Convulsions and spasms were also observed. Due to its condition, the animal was anesthetized by Parks Canada employees and then euthanized for humanitarian reasons. Various organs sampled by park employees were sent to the RCSF-Quebec for analysis.
Microscopic examination of the tissues revealed the presence of inflammatory lesions in the animal's brain (meningoencephalitis). These lesions were characterized by a significant perivascular accumulation of lymphoplasmacytic cells. This same type of cell also infiltrated the meninges. Neuronal necrosis was also present. Molecular analyzes carried out by the MAPAQ laboratory revealed the presence of a highly pathogenic H5N1 avian influenza virus (H5N1 AIV) in the brain. This result was confirmed by the CFIA laboratory. The results of these examinations therefore indicate that the neurological signs observed in this bear were due to inflammation of the brain caused by an infection with the H5N1 AIV virus. The case described here is, the first case of fatal infection by an H5N1 AIV in a bear.