Activists across Asia against McDonald's policy on using eggs from Cages
12 March, 2022
Act for Farmed Animals (AFFA), a coalition consisting of Animal Friends Jogja and Sinergia Animal held a rally in front of McDonald's outlets in Jakarta, Yogyakarta and Bali to urge the giant fast food company, McDonald's, to stop supplying eggs which comes from battery cages of every one of their restaurants in Asia.
The coordinated march was also carried out in more than 10 cities in Asia, namely Bangkok, Kuala Lumpur, Hong Kong, Manila, Ho Chi Minh City, Hanoi, Taipei, and Seoul.
Currently McDonald's has committed to stop sourcing eggs from cages in the USA, Canada, Australia, New Zealand and Latin America, but not Asia.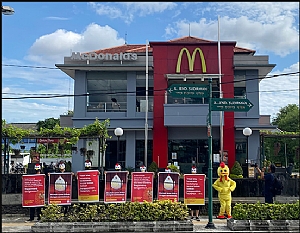 Source (with permission): Animals Friends Jogja