Avian Influenza outbreak along the coast of the Western Cape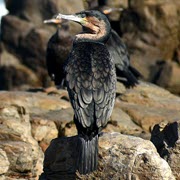 21 October, 2021
A serious outbreak of high pathogenic avian influenza (HPAI) is currently affecting endangered Cape cormorants along the coast of the Western Cape. In the worst-affected colonies, hundreds of birds have already died from the disease.
The H5N1 strain of HPAI virus was detected in wild birds in the Western Cape in May 2021, mainly affecting gulls. The first Cape cormorants were only diagnosed with this disease in mid-September and cases have increased very rapidly over the last week. The colonies that have been affected the worst are those on Dyer Island and near Velddrif. Careful surveillance is being done wherever Cape cormorants congregate. Mitigation measures in progress include the safe removal of carcasses and sick birds. Treating affected birds is futile and poses a serious risk of disease spread. Therefore, sick birds are euthanized.
The signs of avian influenza in seabirds can range from tame behaviour or weakness to muscle twitches and seizures.