UK: Major retailers publish campylobacter results - Q1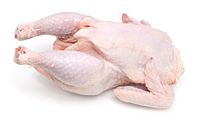 19 June, 2021
The top nine retailers across the UK have published their latest testing results on campylobacter contamination in UK-produced fresh whole chickens (covering samples tested from January to March 2021). The Food Standards Agency (FSA) maximum acceptable level is 7 percent of birds with more than 1,000 colony forming units per gram (CFU/g) of Campylobacter.
The latest results, which cover January to March this year (Q1 of 2021), show that all nine supermarkets have achieved levels below this amount of heavy contamination. Similarly, the majority have recorded contamination levels that are lower than they did between October and December last year (Q4 of 2020).
Tesco was the supermarket that recorded the worst contaminated chicken results with 4 percent of 300 samples above 1,000 CFU/g in the first quarter of 2021 (1Q) which was down from 6 percent in 4Q 2020.