FSA: Two ongoing Salmonella outbreaks linked to frozen breaded chicken products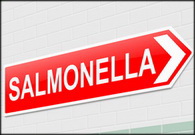 17 March, 2021
The FSA is reiterating its advice on cooking frozen raw breaded chicken products following links to cases of Salmonella.
SFC has issued an updated recall of chicken products because Salmonella Enteritidis has been found in some of these foods.
The products are linked to two ongoing outbreaks of Salmonella Enteritidis (two particular strains) in chicken from Poland.
The two strains of Salmonella Enteritidis in frozen, raw, breaded chicken products from Poland have caused almost 500 illnesses since January and at least one death. The UK has had more than 120 illnesses associated with Salmonella Enteritidis sequence type 11, which has also affected people in Denmark, Finland, France, Germany, Ireland, the Netherlands, Poland and Sweden since May 2018, according to a Rapid Outbreak Assessment published in late February by EFSA and ECDC.
A second outbreak investigation from July 2020 showed 300 reported cases in the UK. French officials have also identified people with Salmonella Enteritidis isolates closely related to the UK strains.