EFSA: Salmonellosis in The EU - 2019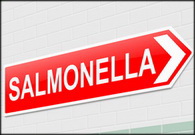 27 February, 2021
Salmonellosis is the second most commonly reported gastrointestinal infection in humans after campylobacteriosis, and an important cause of food-borne outbreaks in the EU/EEA.
In 2019, 87,923 confirmed cases of salmonellosis in humans were reported with an EU notification rate of 20.0 cases per 100,000 population, which was at the same level as in 2018.
In total, 15 MS provided information on hospitalisation. The proportion of confirmed cases with known hospitalisation information was 44.5% at the EU level. Among these, the proportion of hospitalised cases was 42.5%, which was about at the same level as in 2018. Overall, 17 MS provided data on the outcome of salmonellosis and, among these, 11 MS reported 140 fatal cases resulting in an EU case fatality of 0.22%. Here, 46 fatal cases (32.9%) were reported by the United Kingdom.
The trend for salmonellosis in humans has been stable (flat) over the last 5 years after a long period of a declining trend. The trend of S. Enteritidis cases in humans acquired in the EU has stabilised in 2015–2019.
In total, 926 salmonellosis food-borne outbreaks were reported by 23 EU MS in 2019, causing 9,169 illnesses, 1,915 hospitalisations (50.5% of all outbreak-related hospitalisations) and seven deaths.
Salmonella caused 17.9% of all food-borne outbreaks during 2019. The vast majority (72.4%) of the salmonellosis food-borne outbreaks were caused by S. Enteritidis. The four most implicated food vehicles in strong-evidence salmonellosis food-borne outbreaks were 'eggs and egg products', followed by 'bakery products', 'pig meat and products thereof' and'mixed food', as in previous years.
Flocks of laying hens: Salmonella was found in 1,529 or 3.9% of the flocks, compared with 4.04% in 2018. The EU prevalence of laying hen flocks that were positive for either of the two Salmonella (S. enteritidis and S. Typhimurium) was 1.25% (0.95% and 0.3% respectively).