Finland: egg recall due to Salmonella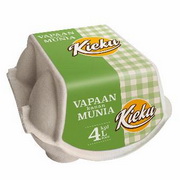 17 January, 2021
Three Finnish firms have recalled eggs because they might be contaminated with Salmonella enteritidis, according to the Finnish Food Authority. Eggs branded as Kieku, Kesko's Pirkka brand and Kotimaista by S-Grouphave been pulled from shelves.
Packs of ten free range Kotimaista eggs are part of the recall, as are ten-egg and six-egg packs of free range Pirkka eggs.
Kieku has also added its Kieku-branded four-egg packs to the recall.
All the eggs are from a farm where salmonella was found in samples, and were packed at a Kieku plant.