OECD‑FAO Agricultural Outlook 2020‑2029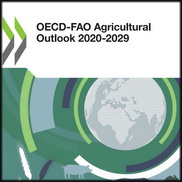 17 July, 2020
Over the outlook period, global livestock production is expected to expand by 14% supported by low feed prices and stable product prices ensuring remunerative profit margins to producers.
Poultry is expected to be the fastest growing meat, with a projected increase in production of 16% (20 Mt).This accounts for about half of the projected increase in total meat output.
Rising poultry production in Asia Pacific and Latin America, in particular, is expected to account for 60% of the global increase in poultry meat. This growth in output will be encouraged by low production costs, a short production cycle, high feed conversion ratios and growing consumer demand in most world regions, which will keep prices stable.