China to close all live poultry markets gradually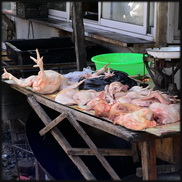 11 July, 2020
China will close all live poultry markets in a step-by-step manner in a bid to reduce public health risks.
China will crack down on the illegal wildlife trade, ban the consumption of wild animals, and impose restrictions on the trade and slaughter of live poultry.
Authorities will step up supervision over farmers' markets to ensure food safety amid the COVID-19 epidemic.
China has 44,000 farmers' markets nationwide, including more than 4,100 wholesale markets.
About 70 percent of the country's agricultural products are distributed through wholesale markets, which are the main channels for the sales of farm produce.