USA: egg prices and coronavirus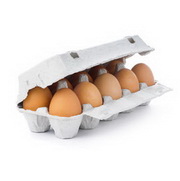 28 March, 2020
Egg prices triple in 3 weeks amid coronavirus panic shopping.
According to Nielsen (a world leader in consumer measurement), egg sales soared 86% last week compared with the year-ago period. In the four weeks ending March 21, egg sales jumped 29% compared with the same period i 2019. Wholesale prices for a dozen Midwest large eggs, the benchmark for the egg industry, surged to a record $3.09, up from $1.03 at the beginning of the month.
The cost being extracted by egg suppliers is even higher than in 2015, when the industry lost about 11% of its production due to avian influenza killing tens of millions of egg-laying hens.