Vaccination strategies to control avian influenza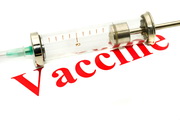 Preventive Veterinary Medicine 184 (2020) 105129
3 October, 2020
A new research evaluate the potential efficiency of different vaccination strategies that could be applied against Avian Influenza (AI) in France.
The study found that vaccination at hatchery and farm level enabled protective immunity levels for the control of AI, but higher poultry population immunity level was reached using hatchery vaccination. The study also showed that hatchery vaccination was more efficient (higher benefit-cost ratio) than farm vaccination. Sufficient and homogeneously spatially distributed protective levels were reached in the overall poultry population with vaccination strategies targeting breeders, chicken layers and broilers and turkeys, without the need to include ducks and guinea fowls. However, vaccination strategies involving the highest number of species and production types were the most efficient in terms of cost-benefit.
This study provides critical information on the efficiency of different vaccination strategies to support future decision making in case vaccination was applied to prevent and control HPAI in France.