USA: COVID-19 among meat and poultry processing workers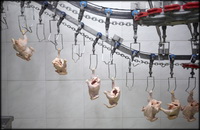 MMWR, July 7, 2020
7 July, 2020
Among 23 states reporting COVID-19 outbreaks in meat and poultry processing facilities, 16,233 cases in 239 facilities occurred, including 86 (0.5%) COVID-19 - related deaths. Among cases with race/ethnicity reported, 87% occurred among racial or ethnic minorities. Commonly implemented interventions included worker screening, source control measures (universal face coverings), engineering controls (physical barriers), and infection prevention measures (additional hand hygiene stations).
Distinctive factors that increase meat and poultry processing workers' risk for exposure to SARS-CoV-2, the virus that causes COVID-19, include prolonged close workplace contact with coworkers (within 6 feet for ≥15 minutes) for long time periods (8–12 hour shifts), shared work spaces, shared transportation to and from the workplace, congregate housing, and frequent community contact with fellow workers.
At least 17,358 cases and 91 COVID-19–related deaths have occurredamong U.S. meat and poultry processing workers.
*only 23 states with COVID-19 cases among meat and poultry processing facility workers submitted data for this report.
COVID-19 illuminates the stark inequalities along class-race-gender lines, shaping whose lives are considered valuable and whose are not.