Avian Influenza virus is spreading in Japan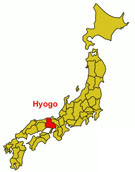 28 February, 2004
Tests showed that a third outbreak of avian influenza in Japan had likely spread further as chickens were shipped from a suspect farm even while birds were dying off in their thousands. The birds were shipped to a Hyogo processing plant from the Asada Nosan Funai Nojo farm in Tanba town, Kyoto prefecture, on Wednesday and Thursday. On those days 9,300 birds at the farm had dropped dead.
Some 67,000 of the 200,000 birds at the Tanba farm have died in the past 10 days, including about 39,000 on Saturday alone.
Despite knowing that the number of dying birds was increasing from February 20th, the farm still shipped birds to Hyogo on the 25th and 26th.
The second outbreak was recorded on February 17 in Oita prefecture on Kyushu island, also in southwestern Japan, in a group of 13 bantams and a duck.