Newcastle disease in Japan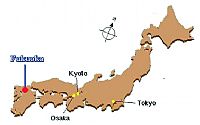 28 December, 2004
Information received on 28 December 2004 from Dr Masako Kurimoto, Director of Animal Health and Animal Products Safety Division, Ministry of Agriculture, Forestry and Fisheries, Tokyo:
Date of the report: 27 December 2004.
Nature of diagnosis: clinical and laboratory (haemagglutination inhibition test, virus isolation).
Location of the outbreak: Fukuoka prefecture (in the southern part of the country).
Description of affected population: chickens in a commercial farm.
Number of animals in the outbreak: approximately 100,000.
Number of deaths: 2,551.
Laboratory where diagnosis was made: Fukuoka chuo Livestock Hygiene Service Center, Fukuoka Prefecture.
Source of agent / origin of infection: unknown.
Control measures: on-site investigations have been made on commercial farms within a 3-km radius from the infected farm and on the breeding farm where infected chickens were born; quarantine; the infected and suspected chickens will be destroyed; the infected farm will be disinfected (OIE).