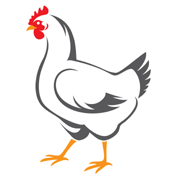 28 January, 2017
The National Chicken Council recently released a report on the environmental and economic impact of converting to slow-growing strains. Converting only one-third of U.S. broiler production, estimated to attain 41,550 million pounds of ready-to-cook chicken in 2017, to slow-growing strains would require an additional 1.5 billion birds annually to produce the same quantity currently produced with highly selected broiler strains.
Read More
Gain Report - USDA
12 January, 2017
In 2015 Polish poultry production amounted to 2,386,000 MT and was 7 percent higher than in the previous year. The increase of production stems from growing domestic consumption, as consumers substitute beef with poultry which is perceived as healthier and cheaper meat, and increasing exports mainly to other EU member states.
Poultry meat production consists mainly of chicken broilers (81%), turkey broilers (14%) which are in demand for the domestic meat processing industry, and ducks and geese which are mainly exported to Western Europe, mainly Germany. It is estimated that in 2016 poultry production will increase by additional 15 percent in comparison to 2015. Poultry meat productionis based on locally produced grains (mainly corn) and 2 million tons of soybean meal imported mainly from South America or the United States.
Read More