Canadian Listeria outbreak blamed on diced chicken imported from USA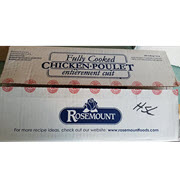 19 August, 2019
The Public Health Agency of Canada (PHAC) is investigating seven cases of Listeria monocytogenes infections in three Canadian provinces.
As of August 18, 2019, there have been 7 confirmed cases of Listeria monocytogenes illness in three provinces: British Columbia (1), Manitoba (1) and Ontario (5). Individuals became sick between November 2017 and June 2019. Six individuals have been hospitalized. Individuals who became ill are between 51 and 97 years of age. The majority of cases (86%) are female. The source of the outbreak has been traced to a production batch of Rosemount brand cooked diced chicken meat, which was supplied to hotels, restaurants and institutions. The implicated product was not packaged for retail sale. As a result of the traceback investigation, Rosemount Sales and Marketing has recalled the product: Rosemount brand Cooked diced chicken meat.
The recalled product was supplied to hotels, restaurants and institutions in Alberta, British Columbia, Manitoba, Nova Scotia, Ontario, Quebec, and Saskatchewan, and may have been distributed nationwide.
Tip Top Poultry, Inc., in Rockmart, GA. has recalled approximately 135,810 pounds of fully cooked poultry products that may be adulterated with Listeria.