JUST Egg rolling out to Kroger stores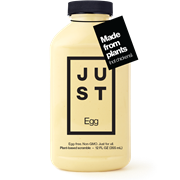 20 August, 2019
JUST Egg, an egg alternative made from mung bean, this month will be on the shelves in 2,100 Kroger-owned stores around the country. JUST Egg is made from mung beans, which contains a protein that we discovered can taste and scramble like an egg. The mung bean is a protein-rich legume.
The mung bean-based egg alternative is free of cholesterol, saturated fat and artificial flavoring.
Its rollout comes as plant-based meat and egg alternatives makes it into mainstream groceries and restaurants.