UK: A new outbreak of avian influenza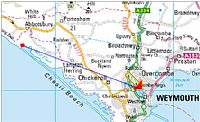 16 February, 2008
The new outbreak refers to a mute swan euthanised in a nature reserve - Radipole Lake, in Weymouth city and later tested positive for H5N1.
The outbreak location is some 10 km (6 mi) from the former site at Abbotsbury Swannery.
There is no direct connection between the 2 lakes.
Considering the measures taken after the first outbreak, nothing unexpected.
Related Links

Radipole lake