New avian influenza case reported in Turkish village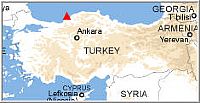 Turkey
21 January, 2008
Several dead chickens tested positive for the avian influenza virus in a northern Turkish village.
The chickens were found dead in Saz, on the southern coast of the Black sea, a village in Zonguldak province. Samples tested positive for avian influenza. the avian influenza virus strain is H5N1.
The first case of avian influenza was discovered in Turkey in October 2005 at a turkey farm in the Kızıksa village, located in Balıkesir province. After a 21-day quarantine, the Ministry of Agriculture and Rural Affairs stated that the avian influenza outbreak was completely stopped. However, it came back to public attention once again with an H5N1 outbreak in January 2006 in which 12 people were infected, four of whom died.
Three of the four people lost to the unexpected outbreak were siblings who were found to have had direct contact with sick chickens. Diagnosed in Ağrı's Doğubeyazıt district, Muhammed Ali, 14, Fatma, 15, and Hülya Koçyiğit, 11, were immediately transferred to a better-equipped hospital in Van, where they died.
The second deadly case that followed the siblings was that of Fatma Özcan. Özcan, 12, who died on Jan. 15 in the same hospital in Van.