India: Topography and high density aid spread of avian influenza virus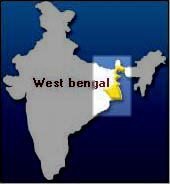 18 January, 2008
The avian influenza outbreak in Bengal may turn out to be the worst the country has experienced and threatens to mirror the prolonged crisis faced by Bangladesh, Thailand, and Vietnam. The topography of some Bengal districts and its high density of poultry population are favourable for rapid spread of the H5N1 virus. The density of poultry in Bengal is higher than that in the other four states that had reported H5N1 outbreaks over the past two years. Human population density is also higher in these districts than in the earlier districts.
Fresh outbreaks were reported from Burwan in Murshidabad and Kinnahar in Birbhum during the day, but not yet confirmed as avian influenza cases.
Murshidabad was today officially declared affected by avian influenza along with Birbhum and South Dinajpur.
Samples were sent for tests from Murshidabad, Birbhum, South Dinajpur, Burdwan, South 24-Parganas and Nadia.
How many districts are officially affected now?
Three: Murshidabad, Birbhum and South Dinajpur.
Are there scares in more areas?
Yes. Some places in Burdwan, South 24-Parganas and Nadia have sent samples for tests after bird deaths.