Spain: Avian influenza in a Layer flock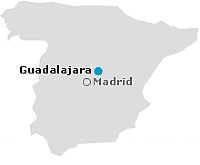 13 October, 2009
Highly-pathogenic avian influenza (HPAI; sub-type H7) has been found at the Chicken farm "Segura", in Almoguera (Guadalajara).
The virus was found in a commercial layer flock of about 310,000 birds (247,200 hens and 61,440 pullets) . All birds have been culled.
The premises consisted of over 300,000 chickens in five sheds; four laying and one breeding house. Increased mortality was observed in two of four production
houses, one of which showed 50% mortality in the birds.