Two-year-old girl becomes latest avian influenza victim in Egypt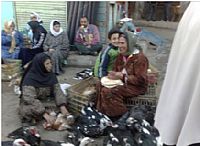 13 January, 2009
New case of avian influenza has been confirmed in a young girl in Egypt.
Tests confirmed that a two-year-old girl, who lives outside Cairo, had contracted the deadly H5N1 virus. the girl's symptoms started on Jan 9 and she was admitted the next day to Imbaba Fever Hospital with fever, cough, vomiting, diarrhea, and rapid respiration. Her illness is listed as Egypt's 52nd H5N1 case. The patient is from Kerdasa district, in 6th of October governorate on the western outskirts of Cairo. Her medical team immediately suspected avian influenza and treated the girl with oseltamivir (Tamiflu), 40 hours after the onset of her symptoms. The girl is believed to have contracted the virus from domestic poultry kept at the family home.
Last year during an international bird flu conference at Egypt's resort town of Sharm el-Sheikh, the country's health minister said that Egypt would need some $2.2 billion to deal with avian flu over the next three years.
Veterinary authorities in Egypt recently reported avian influenza outbreaks among backyard birds in two governorates.
One of the outbreaks, reported Dec 31, occurred in Fayoum governorate in central Egypt, where the virus struck 36 birds, including chickens, geese, and ducks that had been vaccinated in August 2008. The other outbreak, reported on Jan 9, occurred in Menofia governorate in northern Egypt, where the virus hit 34 previously vaccinated chickens and ducks.
The H5N1 virus is endemic in Egyptian poultry.