| | |
| --- | --- |
| Description: | The polypeptides are bactericidal antibiotics with activity against gram-negative aerobic bacilli including Pseudomonas aeruginosa. They are not active against Proteus sp and have no activity against gram-positive organisms. |
Mechanism of action:

Polymyxin B, colistin and bacitracin act by disrupting the bacterial cell membrane

with leakage of intracellular materials and it inhibits bacterial oxidative metabolism.
Source:

Polymyxin B
Bacillus polymyxa
Polymyxin E (colistin)
Bacillus polymyxa var. colistinus
Bacitracin
Bacillus subtilis
| | |
| --- | --- |
| Chemical structure: | Polymyxin B sulfate is the sulfate salt of polymyxin B 1 and B 2 , which are produced by the growth of Bacillus polymyxa. It has a potency of not less than 6,000 polymyxin B units per mg, calculated on an anhydrous basis. The structural formulae are: |

Polymyxin E was isolated from the culture of a strain of Bacillus polymyxa var. colistinus, also called "Colistin" due to his excellent activity against E. coli. The structural formulae is:

Colistin is no homogenous substance, but a mixure of the two components Colistin A and Colistin B. These molecules are identical with polymyxin B with the exception of the substitution of a D-phenylalanine by d-Leucine.
Bacitracin is a bactericidal antibiotic active only against gram-positive organisms.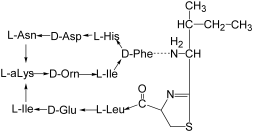 A unit of the antibiotic is equivalent to 26 micro-gram of the USP standard.
Indications:

Polymyxin B and colistin: E. coli, Salmonella, Pasteurella, Pseudomonas aeruginosa
Bacitracin: Colstridium spp
Dosage:

Chickens:

Turkeys:

Pigeons:

Polymyxin B

IM: 500,000-750,000 IU/kg

IM: 500,000-750,000 IU/kg

ND

Colistin

PO:

IM: 60-80,000 IU/kg (broilers are
more susceptible to the toxic
effects of the drug)

PO:

IM:< 5kg-bw: 80-100,000 IU/kg
>5kg-bw: 60-70,000 IU/kg

ND

Bacitracin

ND

ND

ND
| | |
| --- | --- |
| Pharmacokinetics: | Polymyxin B after IM administration, F(%) = 90.4 |
| | Colistin: Lipophilic nature. |
| | Bacitracin is poorly absorbed from the GI tract. |
| | |
| --- | --- |
| Toxicity: | Polymyxin B and colistin are toxic to the kidneys: this may be due to their surfactant action on renal tubular cells, which is similar to their antibacterial action.Colistin can induce severe shock in its sulphate form especially in broilers and ducks. After repeated injections, ascites can be observed. |
| | |
| --- | --- |
| Comments: | Synergic bactericidal action when colistin is combined with spectinomycin. Colistin is synergistic with drugs of the echinocandin family against Candida species, by increasing permeabilisation and attack by colistin on fungal membranes. |