Mass mortality of Sea Lions caused by HPAI A(H5N1) Virus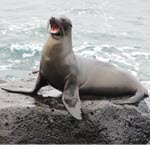 Emerg Infect Dis. Volume 29, Number 12 - December 2023
31 October, 2023
The panzootic, occurring from 2020 to 2023 due to the highly pathogenic avian influenza (HPAI) A(H5N1), resulted in numerous global outbreaks in 2022. Towards the end of that year, the H5N1 virus spread to South America, leading to significant bird mortalities in Peru. The considerable population of infected wild birds likely triggered a spillover event, impacting marine mammals that coexisted with them. A recent study, conducted by Peruvian researchers, documented the deaths of several thousand sea lions (Otaria flavescens) along the Peruvian coast within a brief span. These sea lions displayed neurological and respiratory symptoms. Clinical observations strongly indicated an affliction by HPAI H5N1, a diagnosis later affirmed by both government and scientific reports.
Between January and April 2023, the researchers meticulously monitored deceased and dying sea lions within protected marine zones in Peru. Their investigation revealed 5,224 animals either dead or in the throes of death on the beaches. Approximately 100 deceased sea lions were discovered floating together in the sea, while 1,112 animals perished on an island known for having one of the largest populations of sea lions in Peru (San Gallan, Ica, Reserva Nacional Paracas). This mortality toll accounted for approximately 5% of the sea lion population in Peru within a few months. The predominant clinical symptoms among dying sea lions were neurological, such as tremors, convulsions, and paralysis.
Given the epidemiological context brought about by HPAI H5N1 in the wild bird population, the most plausible explanation for this significant mortality event among sea lions was an acute disease induced by the virus. By April 2023, the death toll among sea lions in Peru had exceeded 5,000, with thousands more exhibiting similar clinical signs succumbing in Chile. The substantial mortality linked to HPAI H5N1 could be linked to the large congregations of sea lions during their breeding season, which occurs from December to May. The potential for direct transmission among sea lions due to their colonial breeding behavior, where hundreds gather in the same vicinity, warrants careful evaluation. This should encompass the substantial number of affected animals and the observation that numerous animals died simultaneously in groups in both Peru and Chile.