USA: H5N1 confirmed in Black Vultures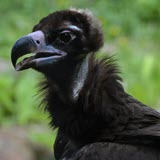 24 August, 2022
Avian influenza H5N1 has killed at least 700 wild black vultures at Noah's Ark Animal Sanctuary in Locust Grove, Georgia.
More than 100 Black Vultures were found dead due to H5N1 HPAI in Harford County, Maryland from April to May 2022.
And in Scotland...Scottish west coast sea eagle chicks killed by avian influenza. Fears have been raised that Scotland's white-tailed sea eagle population could be devastated by avian influenza after dead chicks tested positive for the virus.