Mass mortality of Pelicans observed in Greece due to HPAI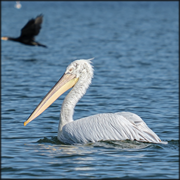 28 March, 2022
A major outbreak of avian influenza has struck the Prespa National Park in north-western Greece. Particularly hard hit have been the Dalmatian pelicans (Pelecanus crispus), whose colony at Lake Prespa is the largest in the world.
The Society for the Protection of Prespa (SPP) reports that the mass mortality of birds started around mid of February, about a week after the first pelicans had arrived in Prespa from their wintering grounds in Turkey and North-Eastern Greece. In a bit more than a week, a total of 209 Dalmatian pelican corpses were recorded in the colony. Moreover, many still living birds displayed neurological symptoms.
On the first days of March 574 Dalmatian pelicans were dead already. All pelicans were adult birds in breeding plumage and the carcasses were located on the nesting islands or close by in the water.
The National Reference Laboratory for Avian Influenza indicated that the birds died because of the highly pathogenic H5N1 strain of avian influenza. Greek regional veterinary authorities immediately announced biosecurity measures for poultry management.
According to the calculations of the ornithologists around 1,000 Dalmatian pelicans arrived in Prespa in early to mid-February, so almost 60% has been affected so far.
Dalmatian Pelican is classified as Near Threatened by International Union for the Conservation of Nature (IUCN), with an estimated global population of between 5,693 and 8,984 pairs in 2017.