M&S to offer 100% slower-reared chicken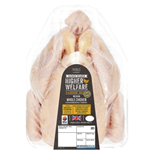 16 September, 2022
Retailer Marks & Spencer has moved its entire fresh chicken offering to slower-reared birds across its UK stores.
The move is part of the retailer's pledge to deliver value products that never compromise on quality, sourcing, or animal welfare standards.
In line with the Better Chicken Commitment, the retailer has moved to Hubbard breed, which complies with higher welfare standards, M&S added. The birds feed on a multigrain diet, designed to support slower natural growth and muscle development, while also ensuring the best flavour for customers.
The farmers ensure that their poultry gets 20% more space alongside an enhanced environment, with more pecking aids and perches to encourage natural behaviour. The Oakham Gold chicken, was introduced in 2020. M&S is first national retailer to offer 100% slower-reared chicken.