The origin of the modern chicken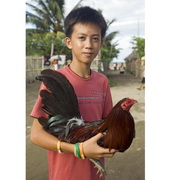 Cell Research
27 June, 2020
An extensive study, by Chinese researchers, of the bird's full genome concludes that people in northern Southeast Asia or southern China domesticated a colorful pheasant sometime after about 7500 B.C.E. Migrants and traders then carried the bird across Asia and on to every continent except Antarctica.
These results contradict previous claims that chickens were domesticated in northern China and the Indus Valley.
Charles Darwin argued the chicken descended from the red jungle fowl; he speculated that domestication happened in India.
The Chinese researchers sequenced the full genomes of 863 birds and compared them. The results suggest modern chickens descend primarily from domesticated and wild varieties in whatis now Myanmar, Laos, Thailand, and southern China. This region is a center of domestication.
The new DNA data link domesticated chickens most closely to the a Southeast Asian subspecies of red jungle fowl named: Gallus gallus spadiceus.