Thai woman confirmed to have died of avian influenza virus
28 September, 2004
Thailand on Tuesday morning confirmed infection of avian influenza virus was the cause of a woman's death, the 10th death of the epidemic in the kingdom.
The 26-year-old woman identified as Pranee Krongkaew is confirmed to have contracted the deadly H5N1 virus. Pranee died on Sept. 20 after briefly taking care of her deceased daughter Sakuntala, who was also on the list of suspected avian influenza infection cases.
The cause of her 11-year-old daughter's death has yet to be confirmed.
Pranee's sister Pranom was also confirmed Monday as suffering from avian influenza. She is now recovering, according to the Thai PublicHealth Minister Sudarat Keyurapan.
Pranee is the second Thai to die of avian influenza virus since the epidemic reappeared in July. Her death fueled the fear that the fowl epidemic might mutate and transmit among human. Pranom and Pranee's daughter Sakuntala had reportedly disposed carcasses of infected bird around their home in the province of Kamphaengphet, some 380 kilometers northeast of Bangkok. But, Pranee, who worked in Bangkok, had no record of touching infected poultry. Having heard her daughter's sickness, she went back home and briefly took care of the girl. Therefore, it is suspected that she might have contracted the disease from her daughter. However, the Thai authorities played down the possibility of avian influenza infection among people.
Sakuntala "was a probable avian influenza case who could have infected with the disease from chickens which died in her house and village," said a Public Health Ministry statement issued following the confirmation of Pranee's infection.
It said Pranee may have "contracted the virus from the environment in the village where the chickens died, or from the sick daughter who she was taking care of for a long period of time." (Xinhuanet).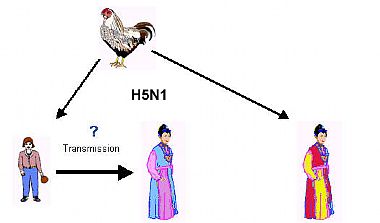 | | | | |
| --- | --- | --- | --- |
| Name | Sakuntala | Pranee | Pranom |
| Family relation: | Pranee's daughter | Sakuntala's mother | Pranee's sister |
| Age: | 11 years-old | 26 years-old | 32 years-old |
| Date of Fever onset day: | Sep 2, 04 | Sep 11, 04 | Sep 16, 04 |
| Result of Treatment: | Dead. Sep 8, 04 | Dead. Sep 20, 04 | Survived; discharged Oct 7 |
| Diagnosis: | Cremated (No confirmed diagnosis) | H5N1 | H5N1 |
| Comments: | Contact with sick poultry | No contact with poultry | Contact with poultry (?) |