Japan (Kyoto): Farm keeps quiet as avian influenza kills 28,000 chickens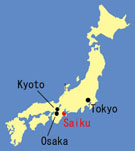 27 February, 2004
About 28,000 chickens have died in the past week at a chicken farm in the town of Tamba, Kyoto Prefecture, and preliminary tests have found five birds positive for avian influenza.
The farm, one of the largest in the prefecture, did not report to the authorities until the prefectural government contacted it the same day after having received anonymous tips.
The Asada Nosan Funai Nojo farm also shipped around 15,000 live chickens to slaughter houses in nearby prefectures on Wednesday and Thursday while thousands were dying, according to prefectural officials.
These chickens were slaughtered for meat and some was shipped to wholesalers, but they have not reached consumers.
According to the prefectural officials, a local health office and other places received anonymous phonecalls Thursday, saying that chickens were dying every day at a farm in Tamba.
After contacting the farm, the local government was told that around 1,000 birds started dying every day around Feb. 20. The number of deaths ballooned each day to hit 7,000 on Thursday and 10,000 on Friday, raising the total to around 28,000.
Hideaki Asada, the 41-year-old owner of the farm, told reporters he had thought the chickens died of enteritis.