Canada: Avian Influenza Detected in British Columbia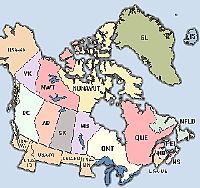 19 February, 2004
The Canadian Food Inspection Agency (CFIA) has received test results confirming the presence of the H7 avian influenza virus on a farm in British Columbia. Further testing will confirm whether the virus is a low or highly pathogenic version of the virus.
Initial test results from a provincial laboratory in B.C. detected the avian influenza virus and the H7 subtype was confirmed at the CFIA's National Centre for Foreign Animal Diseases in Winnipeg. The B.C. farm has been placed under quarantine to halt the spread of the disease and approximately 16,000 birds on the farm will be depopulated within the next few days. The CFIA has established an active surveillance program in nearby farms and will continue to monitor all aspects of this case.
Canada has had three cases of low pathogenic H5 and H7 viruses since 1975, the latest of which was reported in 2000 in Ontario.