Australia: Salmonella outbreak in Sydney prompts egg recall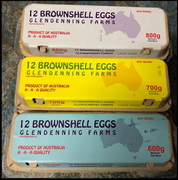 8 September, 2018
In Australia, New South Wales (NSW) Food Authority advises that 'Eggz on the Run' is undertaking a voluntary recall of Glendenning Farms eggs as part of an investigation into human illness. A cluster of human cases of Salmonella Enteritidis, have been detected in the Sydney area. To date there have been 23 confirmed cases.
The NSW Food Authority is working with NSW Health in investigating the cluster.
The company behind the products, Eggz On The Run, has voluntarily recalled its Glendenning Farms 12 "brownshell" eggs from supermarket shelves. Glendenning Farm is an 'egg farm' located in Marsden Park, NSW Australia.