FSA: Survey into slaughter methods in England and Wales - report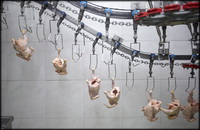 17 February, 2019
This report is based on a survey the Food Standards Agency (FSA) carried out at all slaughterhouses operating in England and Wales during the period 29th January 2018 to 4th February 2018 inclusive. The survey focused on throughput, slaughter methods (including stun and non-stun slaughter) and some additional areas such as where the livestock is sourced from and where the meat is distributed to including exports.
Broiler chicken was by far the most commonly slaughtered species. Out of the 18 million broiler chickens slaughtered, approximately 70% were gas stunned and 10% were slaughtered using non-stun methods, almost all of which were non-stun Halal including.
Over 800,000 spent hens were slaughtered and 92% of these were stunned with CO2 or with other gas mixtures.
85% of broiler meat was distributed within the UK, either via wholesale traders, supermarkets or other UK destinations. In total 7% of broiler meat was exported, almost all to the EU.