Zoonoses and zoonotic agents in Austria - report 2018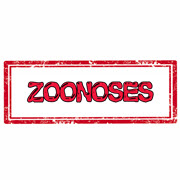 29 September, 2019
The most common zoonotic infectious diseases in humans in Austria are currently infections with the diarrhoea pathogens Campylobacter and Salmonella, which are mainly ingested via food.
Salmonella
In 2018, 1,533 lab-confirmed cases were reported to the Epidemiological Reporting System that corresponds to an incidence of 17.4 cases per 100,000 population. Thus, Salmonella was the second most common cause of bacterial food poisoning in Austria, after Campylobacter. From 2002 to 2016, the number of salmonellosis cases dropped by 83 %. This decline in salmonellosis was achieved solely through a decrease in S. Enteritidis infections (2002: 7,459 primary isolates; 2016: 671 isolates). In 2017, salmonellosis cases increased and the augmented cases recorded (878 cases) could mainly be attributed to an increase in cases of serovar S. Enteritidis. In 2018, the number of S. Enteritidis cases declined again to 723 cases and was below the number of cases caused by all other serovars (810 cases). The spectrum of the most common Salmonella serovars in human cases has changed slightly over recent years. S. Infantis, the most common serovar in broilers, and the monophasic variant of S. Typhimurium (likely reservoir: pigs) have become increasingly important besides S. Enteritidis and S. Typhimurium.
Information on Salmonella serovars was available for 78,949 cases. Almost half of the cases were caused by the serovar Enteritidis (49.1 %), followed by S. Typhimurium (13.4 %), the monophasic variant of S. Typhimurium (8.0 %), S. Infantis (2.3 %) and S. Newport (1.2 %). The proportion of human salmonellosis illnesses caused by S. Enteritidis has continued to increase since 2015. In parallel, an increase in laying hen flocks testing positive for S. Enteritidis – fresh eggs are the most important infectious vehicle for this serovar - can be found.
Salmonella in Food: Salmonella was found in 66 of 400 poultry meat samples. Poultry specimens made up 8.2 % of the entire sampled material tested for Salmonella although 97.1 % of all Salmonella-positive results came from this food category. Twenty-eight percent (40 of 143) of raw chicken meat samples examined tested positive for Salmonella (37 times S. Infantis, and one time each S. Enteritidis, S. Agona and S. Coeln), so did four of 18 raw chicken meat preparations (22.2 %) and 15.8 % (22 of 139) raw poultry meat samples (duck, goose or undisclosed bird species), 13 times S. Infantis and seven other different serovars. No evidence of Salmonella was found in fresh turkey meat (51 samples), chicken meat products (four samples) and ready-to-eat, poultry meat products. Salmonella was detected in one sample of mixed minced meat of 839 tested samples of meat and meat products (no poultry meat), and in one sample of 23 foodstuffs intended for special nutritional uses (Salmonella 1,4,[5],12:- :1,2 and S. Matopeni).
Campylobacter
In 2018, 7,982 lab-confirmed campylobacteriosis cases were notified to the Epidemiological Reporting System. Thus, campylobacteriosis remains the most frequently reported form of bacterial food poisoning in Austria with an incidence of 90.5/100,000 population. The steady increase in human campylobacteriosis cases reached its peak in 2018. Compared to 2017, incidence levels increased strong by 10.8 %.
In 2018, thermotolerant Campylobacter was detected in 67 of 110 fresh poultry meat samples tested (61 %), 44 of which were found in 59 (75 %) samples taken from fresh, raw chicken meat, in three of 11 samples of fresh turkey meat, in 20 of 40 samples of unspecified fresh poultry meat (50 %).
Related Links

The report