Salmonella resistant to colistin found in U.S.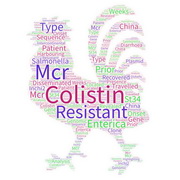 15 June, 2019
Researchers from North Carolina State University have found a gene that gives Salmonella resistance to antibiotics of last resort in a sample taken from a human patient in the U.S. The find is the first evidence that the gene mcr-3.1 has made its way into the U.S. from Asia.
In the U.S., Salmonella enterica 4,[5],12:i:- ST34 is responsible for a significant percentage of human illnesses. The drug resistance gene in question - known as mcr-3.1 - gives Salmonella resistance to colistin, the drug of last resort for treating infections caused by multidrug-resistant Salmonella. The positive sample came from a person who had traveled to China two weeks prior to becoming ill with a Salmonella infection.
The research appears in the Journal of Medical Microbiology.