Pakistan: Avian Influenza kills hundreds of peacocks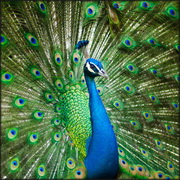 30 March, 2019
Hundreds of peacocks at breeding centres across Punjab have died due to the Avian influenza H5 virus.
The Punjab Wildlife Protection and Parks Department has imposed an emergency at government parks, zoos and breeding centres.
More than 100 peacocks at the former prime minister's farmhouse in Jati Umra have died due to the virus during the past week. Similar deaths, in smaller numbers, have been reported at private breeding centres across the province. Vaccination of birds at zoo was applied.