Casino Group (France): First welfare labelling scheme for poultry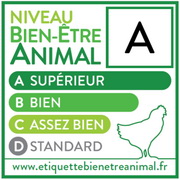 14 December, 2018
Casino Group joined hands with three independent organizations recognized for their expertise in favor of animal welfare (Compassion In World Farming France-CIWF France, La Fondation Droit Animal, éthique et sciences -LFDA and the association 'uvre d'Assistance aux bêtes d'Abattoirs' - [OABA]) to offer the first labeling on animal welfare. This approach, unprecedented in France, aims at strengthening transparency on animals' breeding, transport and slaughter conditions and therefore at giving clear and reliable information to the consumers.
The four partners worked during almost two years to build together a solid reference table of criteria fit to evaluate the level of animal welfare (stocking density, outside area, care, transport, method of slaughter, etc.), as well as a notation method. The labeling provides several levels of notation which value the processes that guarantee a significant improvement of animal welfare and go beyond the statutory requirements.
The consumers will be informed about the level of welfare of the whole and cut chickens of the Casino Terre & Saveurs brand. This label is placed on the packaging of the products near the weight/price tag. This labeling will encourage the consumers to favor purchases which are more respectful of animal welfare and to value the work of the breeders committed to this matter. It is part of a process to improve breeding practices, transport and slaughter in the animal production chain and to strengthen the transparency of the products sold by giving precise and reliable information to the consumers about the level of animal welfare of the products they buy.
The consumer information website www.etiquettebienetreanimal.fr, launched on December 5th, will provide all the information on this labeling.
The label presents four levels of animal welfare (A, B, C and D). The levels A, B and C guarantee a significant improvement of the animal's welfare, the level D is the standard level in line with the legislation in force.