UK: BPC antibiotic stewardship report 2018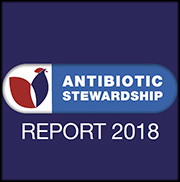 4 June, 2018
The poultry meat sector became the first UK livestock sector to pioneer a data collection mechanism and share antibiotic usage data with the Government's Veterinary Medicines Directorate (VMD). Data collected by the British Poultry Council (BPC) is published every year as part of the UK-Veterinary Antimicrobial Resistance and Sales Surveillance (UK-VARSS) Report. The BPC collects and monitors usage ofall antibiotic classes in the UK poultry meat industry to promote and apply best practice throughout the supply chain.
In 2017, the poultry meat sector used 14.38 tonnes of antibiotics and achieved an 82% reduction in the net use of antibiotics as compared to 2012. In the last year, the sector has achieved a 39.36% reduction in net use of antibiotics (23.72 tonnes used in 2016). In 2016, the sector used 9.72% of the total antibiotics licensed for use in food producing animals as compared to 21% in 2012.
The British poultry meat sector has made great strides and achieved a 60.44% reduction in overall antibiotic use in chickens, a 59.57% reduction in the overall use in ducks, and an 80.90% reduction in the overall use in turkeys in the last three years. BPC Antibiotic Stewardship follows the World Health Organisation (WHO) guidelines on the use of Critically Important Antibiotics (CIAs). The UK poultry meat industry uses the highest priority critically important antibiotics only as a 'last resort'. The use of Macrolides and Fluoroquinolones is permitted only after consultation with the supervising veterinarian and after alternative options have been explored. Production has increased by 10% even with the reduction in the use of antibiotics by 82%. Significant reduction across all classes of antibiotics used has been seen in the last two years, most notably, a 63.09% reduction in the use of tetracyclines and a 22.02% reduction in the use of amoxycillin. This is a result of the high level of commitment displayed by poultry farmers and veterinarians in implementing the Stewardship principles.