Report: the sources of foodborne illnesses for 2016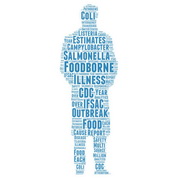 13 November, 2018
The Interagency Food Safety Analytics Collaboration (IFSAC) released a report titled "Foodborne illness source attribution estimates for 2016 for Salmonella, Escherichia coli O157, Listeria monocytogenes, and Campylobacter using multi-year outbreak surveillance data, United States." The authors used outbreak data to produce new estimates for foods responsible for foodborne illnesses caused by four pathogens in 2016. CDC estimates that, together, these four pathogens cause 1.9 million foodborne illnesses in the United States each year.For the 2016 report, IFSAC analyzed data from just over 1,000 foodborne disease outbreaks that occurred from 1998 through 2016 to assess which categories of foods were most responsible for Salmonella, E. coli O157, Listeria monocytogenes, and Campylobacter infections.
The pathogens were chosen because of the frequency or severity of the illnesses they cause, and because targeted interventions can have a major impact in reducing them. Of note in the 2016 report:
Salmonella illnesses came from a wide variety of foods.
E. coli O157 illnesses were most often linked to Vegetable Row Crops (such as leafy greens) and Beef.
Listeria monocytogenes illnesses were most often linked to Dairy products and Fruits.
Dairy and Fruits remain the top two categories with the highest estimated attribution percentages, but the difference between the two categories is not statistically significant.
There was an increase in the estimated attribution of Listeria illnesses to Vegetable Row Crops from 3.4% in 2013 to 12.5 % in 2016 due to the impact of a large multi-state outbreak in 2015 linked to prepackaged lettuce.
Campylobacter illnesses were most often linked to Chicken after removing Dairy outbreaks from the estimates.
Most foodborne Campylobacter outbreaks were associated with unpasteurized milk, which is not widely consumed, and those outbreaks likely over-represent Dairy as a source of Campylobacter illness.
For 2016, Chicken had a significantly higher estimated attribution percentage than the other non-Dairy food categories. The adjusted Chicken percentage increased from 9.5% to 30.3% after removing Dairy.
Related Links

The report