Canada: chicken burgers recalled due to possible salmonella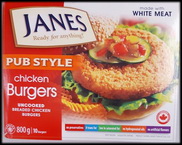 29 October, 2018
The Canadian Food Inspection Agency says Sofina Foods Inc. is recalling Janes brand Pub Style Chicken Burgers from the marketplace due to possible salmonella contamination, including one in B.C.
In its recall warning the CFIA says Salmonella investigations led by the Public Health Agency of Canada have linked frozen raw breaded chicken products to 25 illnesses in nine provinces. Two people have been hospitalized, though no deaths have been reported.
Since May 2017, the government has been using whole genome sequencing and has investigated 14 national Salmonella Enteritidis outbreaks linked to raw chicken. Food recalls have been issued for nine of these products that are linked to some of the outbreaks.
As of October 26, 2018, there are 474 laboratory-confirmed Salmonella Enteritidis illnesses across Canada. Ninety-people have been hospitalized. Three people have died, but Salmonella was not the cause of death for two of those patients, and it was not determined whether or not Salmonella contributed to the cause of death for the third person.