Canada: A warning about Salmonella in frozen chicken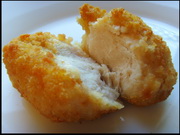 14 September, 2018
The Public Health Agency of Canada (PHAC) has issued a notice about Salmonella illness linked to frozen breaded chicken products. There have been over 400 confirmed cases of salmonella infection in Canada from frozen raw breaded chicken products in the past 16 months.
According to the Public Health Agency of Canada, federal, provincial and territorial health and food safety partners have investigated 12 national outbreaks linked to raw chicken, including frozen raw breaded chicken products, since June 2017.
The Canadian Food Inspection Agency (CFIA) has issued recalls for seven products linked to some of the investigations.
All told, the 12 outbreaks have resulted in 419 laboratory-confirmed cases of salmonella across the country.
As part of the outbreaks, 86 individuals have been hospitalized. Three people have died. Salmonella was not the cause of death for two of those, however, and it was not determined if the bacteria contributed to the cause of death of the third.
There are currently two active national outbreak investigations linked to raw chicken, one involving 39 cases of illness in seven provinces, and another where there have been 25 cases in eight provinces, including three in Newfoundland and Labrador.
The Council of Chief Medical Officers of Health issued a statement, advising Canadians of the importance of following the proper food safety practices when handling, preparing or consuming frozen raw breaded chicken products.