Rose Acre Farms recalls shell eggs due to Salmonella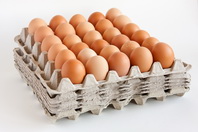 14 April, 2018
Rose Acre Farms of Seymour, Indiana is voluntarily recalling 206,749,248 eggs because they have the potential to be contaminated with Salmonella Braenderup, an organism which can cause serious and sometimes fatal infections in young children, frail or elderly people, and others with weakened immune systems.
The eggs were distributed from the farm in Hyde County, North Carolina and reached consumers in the following states: Colorado, Florida, New Jersey, New York, North Carolina, Pennsylvania, South Carolina, Virginia, and West Virginia through retail stores and restaurants via direct delivery.
23 illnesses have been reported to date.
More than 550 million table eggs were called from two Iowa egg farms owned by Austin (Jack) DeCoster in 2010 involving a nationwide Salmonella outbreak that sickened thousands. Afterward, Jack and his son Peter DeCoster each plead guilty to one count of allowing misbranded and adultered food to enter interstate commerce.
They and their company, Quality Egg LLC, ended up paying $7 million in fines and both DeCosters served three months in federal prison.