The Netherlands: Eggs contaminated with fipronil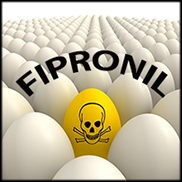 2 August, 2017
Over 180 poultry farms have been banned from bringing their eggs to market following the discovery of a batch of eggs containing fipronil, a pesticide used to eliminate chicken lice. The Dutch Food and Consumer Product Safety Authority (NVWA) announced there would be more product codes for eggs found to contain the harmful substance fipronil. Fipronil is an insecticide used in veterinary medicine fleas, mites, lice and ticks.
The Netherlands produces 11 billion eggs a year, of which half are exported. Almost a million eggs have been recalled in western Germany due to the insecticide fears.
The NWVA has warned that the eggs with the code X-EN-40155XX have the elevated levels of the pesticide.
The maximum residue levels (MRLs) for fipronil is legally fixed by the EU* at 0.005 mg/kg in both chicken eggs and chicken meat (0.005 mg/kg being the lower limit of analytical determination, as no residues are expected to be detected given the prohibition of fipronil in poultry farms).
*EU Regulation (EC) 396/2005 of the European Parliament and of the Council of 23 February 2005 on maximum residue levels of pesticides in or on food and feed of plant and animal origin for fipronil (sum of fipronil + sulfone metabolite expressed as fipronil).